In accordance with
design and function

PS Mering direct contact
+49 (0)8233 7399-10
official PS Mering website
The Company
PS Mering GmbH...
...is one of the leading German
companies for providing fiber
reinforced plastic components. Our
products are used in the automotive
sector as well as in engineering and
many other business fields.
By...
...integrating different composite
materials in our manufacturing process
we are able to fulfil almost every case
of application quickly, efficiently and
with high quality.
Upon functional parts...
... of fibre-reinforced plastics the advantages
are obvious:
- Small to medium size series can be realized
überaus wirtschschaftlich realisiert
very economicaly
- The possibility of component integration
makes interface problems belonging to
the past
- Appealing surfaces, minimal weight and
good isolation are already given, by using
plastics.
PS Mering products ...
... fulfill all currently necessary technical
requirements like physical and chemical
parameters, environmental compatibility and
fire classification standarts.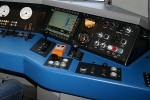 » Functional parts

Components for driver's
cabins and technical
applications